Namık TAN | Honorary Chairman
Namık Tan retired in 2014 from government services and joined to the private sector. He was the Turkish Ambassador to the United States from February 2010 to May 2014, He served several high-level positions in the MFA, such as deputy undersecretary of the Ministry of Foreign Affairs, responsible for bilateral political affairs and public diplomacy. Namık was previously Ambassador of Turkey to Israel from 2007 to 2009. Tan Joined the Turkish Ministry of Foreign Affairs in 1982 and has held posts in Ankara, Moscow, and Abu Dhabi. He was later assigned to the Turkish Embassy in Washington, where he served as a counselor from 1991 to 1995 and first counselor from 1997 to 2001. Between these assignments, Namık Tan served as chief of cabinet to the Turkish Foreign Minister. Upon his return to Turkey in 2001, he was appointed as head of the Department for the Americas and was subsequently named as head of the Information Department in 2002. He served as the spokesman for the MFA from 2004 to 2007.
Hasan ALSANCAK | Managing Director
Hasan Alsancak served in the Turkish Ministry of Interior in senior positions at several central police departments (Criminal Intelligence, Anti-Smuggling, and Organized Crimes) between 1992 and 2002. He worked as Field Security Coordination Officer at United Nations Safety & Security Department (UNDSS) from 2002 to 2006.    In 2006, Hasan Alsancak resigned from government services and joined private sector where he served in several positions such as director, executive board member and vice president until 2014. He graduated from the Faculty of Security Sciences of Turkish Police Academy in Ankara and FBI National Academy in Virginia. He holds M.Sc. degree in International Relations from Gazi University in Ankara. He has 25-year extensive experience in law enforcement, corporate security, and complex investigations, including financial crimes, corporate fraud, as well as business continuity, critical infrastructure protection (CIP), and executive protection. He has broad security network both in law enforcement and corporate security domains in the EMEA region. He organized and/or attended numerous international platforms as a lecturer or keynote speaker in different topics including but not limited to corporate security risk management strategies, critical infrastructure protection (CIP), corporate investigation methods, geopolitics & regional security.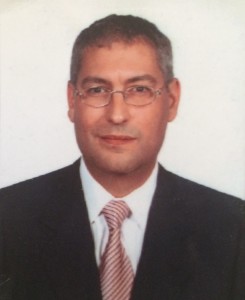 Mehmet ÖZÇELİK | Advisory Board Member
Mehmet Özçelik has 25+ years of experience in international logistics and telecommunication sectors. He seated in many non-profit and business associations involved in regulatory aspects and technological developments. Mehmet Özçelik has a strong international network in Turkey and the MENA region together with an excellent track record in telecommunication technologies, information security, and major project management. He holds a BA degree from the University of Grenoble in France in Administrative Studies and Economy Politics. Mehmet Özçelik can speak French and English both at advanced level.
Hüseyin ÇAĞLAR | Advisory Board Member
Hüseyin Çalar has 20+ years experience in ICT, satellite telecommunication and fiber optic systems, government relations, team leading and business development. Hüseyin managed and participated in public relations, government affairs, network applications, and security projects. Hüseyin has proven experience in marketing strategy, familiar with both B2C and B2B environments. He worked in Turkey and the surrounding regions with C level positions. Huseyin Çağlar also actively took the role in sectoral institutions, as a board member in Turkish Competitive Telco Operators' Association "TELKODER"  as Member of Turkish Telecommunications Assembly which is under Turkish Union of Chambers and Commodity Exchanges (TOBB).
Emre KAYA | Advisory Board Member
Emre Kaya is a senior electrical-electronics engineer, has more than 10 years experience in physical security systems and information security technologies, including but not limited to fiber optic intrusion detection systems, drone, perimeter control, access and command control at industrial facilities and similar large-scale projects.  Emre Kaya has strong analytical skills and experience in security management systems, including private security process, and audit.  Emre Kaya played key roles in critical infrastructure protection, security risk management process, crisis management, business continuity, and travel security management projects in senior-level positions in different sectors in Turkey and abroad.